Bathway Tub Conversion Products
Bathway's full service bathtub conversion to walk in shower will work on practically any existing bathtub. Browse through our wide range of accessible bathtub products, specially designed to make your bathtub more accessible.
Request a FREE quote today
---
Tub to Shower Conversions

Cut down the side of an existing bathtub allowing you to step through instead of over the bathtub wall.

Steel and Acrylic Tubs $895.00
Cast Iron Tubs $1295.00

Note: If your house was built in the mid 1950's or earlier you may have a cast iron tub.

Adjust-A-Flange Grab Bars

These heavy duty grab bars have cast, two screw flanges, that rotate so that the fastening screws can be aligned with a wall stud. The result is a very secure installation. Finished in a lustrous chrome plate and knurled for safety.

Available in 18 and 24 inch.

$100.00 each and includes installation.

Hand Held Shower Wand

This hand held shower wand is on a 59 inch flexible hose that may be placed on a slide rail for added convenience.

$225.00 and includes installation.
---
As Seen on Cityline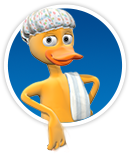 See what our customers are saying about their new step-in bathtubs:
"I just wanted to thank you again for the great service provided by Bathway. The installer was just fantastic to deal with and the residents are all very happy with the work.  Thanks again."
Read more testimonials