Media
Watch Bathway's latest videos - Bathway commercial
Convert Tub to Shower - Bathway The Tub Cutting People
Video Transcript -
Having a little trouble getting into your bathtub?
Wouldn't it be better if you could just step in?
And a bathroom renovation is definitely not something you want to go through.
So here's a thought, why not convert your existing tub into a step in shower it's the simple and affordable solution from Bathway - the tub cutting people.
Tub to shower in just over an hour.
Go to bathway.ca or call 1-888-7-STEP-IN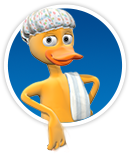 See what our customers are saying about their new step-in bathtubs:
"Just a quick note to thank you for the excellent service I received from Bathway. My bathtub needed to be modified to accommodate my elderly mom who is recovering from knee replacement surgery. Thanks to you she now has improved accessibility, safety and confidence getting in and out of the tub. All without having to undergo a costly and unnecessary bathroom renovation. The installer Rob was courteous, professional and very pleasant. I will not hesitate to recommend Bathway. Thanks again from a satisfied customer. Best regards."
Read more testimonials