Safety. Independence. Dignity.
Falls are a leading cause of hospitalization among seniors, and the bathroom represents a particularly dangerous environment with hard, wet and potentially slippery surfaces. And the bathtub wall often presents a difficult - if not impossible barrier for many.
Bathway's bathtub to shower conversion process transforms your existing bathtub into a safe and accessible walk-in shower in just over an hour.
Our process is fast and affordable and works on just about any tub. We simply cut out a section of your existing bathtub and install a custom fit threshold allowing you to step through, instead of over, the bathtub wall.
Bathtub to shower conversion is that simple.
View the Bathway brochure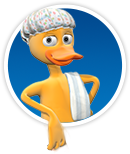 See what our customers are saying about their new step-in bathtubs:
"The whole Bathway process has been a great blessing to our senior residents. We have already converted a number of our suites, and when I do a tour, many people are very thankful that we have such an option for their loved ones."
Read more testimonials